Cloud computing is a disruptive model for enabling on-demand, convenient, flexible access to a shared pool of configurable computing resources
(e.g., networks, servers, storage, applications, and services) that can be quickly provisioned and released with minimal management effort or service provider interaction.

Webmail – A Simple Cloud Computing Example
A simple example of cloud computing is webmail. Anyone can access their webmail from anywhere in the world simply by knowing the web address of the webmail service, there's no need to know the name of the server or an ip address or anything else.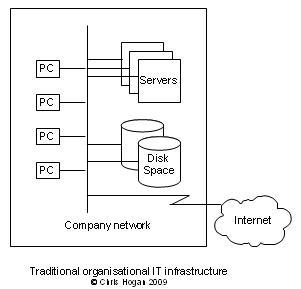 The webmail provider takes on the job of making sure that there's enough disk space and processing power to allow all their customers to store and retrieve their mail on demand. The user doesn't have to worry about maintaining web clients on their PC or, in the case of companies, local email servers.
HP webOS and Veer 4G Smartphone
From personal experience this weekend, example one is HP's webOS and the HP Veer 4G smartphone. After a long week of travel, and rushing to make my last flight home on Friday night, I left my Palm Pre+ phone in the rental car, only realizing after having passed through security with my flight already boarding. My choices seemed dim. Miss the last flight home or leave my phone, full of confidential work emails and protected by only a password, to the possibility of weekend hacking by its next [not legal] owner. Then I remembered, the Palm Profile I created months ago when I first received my Palm Pre+ has a little "I lost my phone" button. Within 2 minutes, I had popped open my laptop, logged onto my Palm Profile, and initiated a secure delete of all data on my phone. So if you found my Palm Pre+ in the Avis Chevy Cruze rental car at Monterey Airport on Friday, don't bother trying to look for any personal information on it, and enjoy the phone, I already have replaced it with a better one.
Google Chromebook
A close second is Google's Chromebook. For consumer technology trend following, it doesn't get much easier than having a teenage son (yes, the one with the new Veer). He has been using Chrome on his Mac laptop since it first came out, its the only browser he uses. While with age comes wisdom and respect is not a common phrase in his vocabulary, I was however able to score some points when Fedex delivered a Chromebook to the door this afternoon, addressed to me. Hey, I'm the one who told you about the beta program he said. Well then, I guess I'll have to let you borrow the Chromebook, I replied. You guessed it, several hours later both my kids and I have logged on and tested it out.
More Complex Software as a Service Applications
Take this example a little further and you can see how different services can be provided to individuals and small companies at a fraction of the cost of setting up and IT infrastructure, servers and applications. Salesforce.com is a well known example of a customer relationship management (CRM) system that uses cloud computing to provide a fully-fledged software application that can be used by one user or hundreds.

By paying an amount per user per month (although there are volume discounts) very small companies can get access to professional CRM functions for a very low initial cost compared to buying, installing and maintaining their own CRM software. Of course the offering form the application provider is